Ask anyone about the living room in their home and you're bound to receive a real burst of emotion from them. As the hub of our social activities, and the space in which we forge some of our happiest memories, the living room and its furniture means more to us than perhaps than any other form of decor.
When you arrange your living room furniture in a way that's open and inviting, it's as if there's a magnetic force that emanates from the walls, into the air and over your upholstery. But neglect how you decorate and organize the space, and don't be surprised if guests stay on their feet and inch towards your door.
Today, Curly's Furniture of DeKalb, Illinois will review just some of the new ways you can rearrange, and re-imagine your
living room furniture
—from the layout of your room, to the sofas and accents you place in it.
A Living Space As Adaptable As You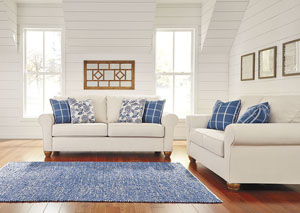 Here's a given: most of us own a sofa, a couple chairs and a table or two. The key to the modern, flexible, and fully adaptable living room is not to overburden it, but to maximize what's already in it.
While you may know your space so well that you could sleep-walk through it, think about how your friends and family would navigate it on their first visit. Your
sectional sofa
may look great in one corner of your room, but is it as accessible as it could be?
The Living Room with a Focal Point
Sometimes the simplest, and most logical way to arrange your living room is to find a focal point, and furnish around it. In most cases, that focal tends to be the TV; or in the more rustic stretches of the state, a cozy fireplace.
Round up your guests by strategically placing your recliner sofas and
accent ottomans
in view of something centralizing, like a LED TV or coffee table. Grabbing yourself some throw pillows or poufs could be a wise move here as well.
Symmetry: A Way to Arrange Your Life
Always tried and true, the classic symmetrical arrangement works wonders in virtually any living room. If you have a large occasional table in your space, place a pair of fabric sofas, side by side, angled towards it.
Of course, adhering to symmetry with your living room furniture doesn't mean you need two of everything. It's safe to say most rooms will only require one sectional sofa. But a second accent chair, and accent pillow to boot, could work wonders for you.
When you feel the itch to rearrange your living room, swing by Curly's Furniture to talk to our experts in-person!